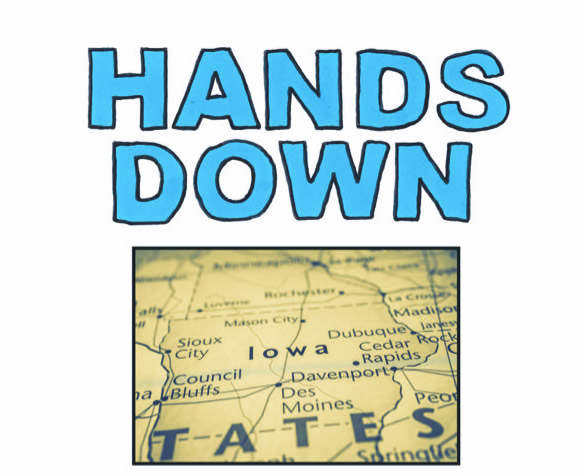 Hands down, as he leaves Davenport, IA for the US Marine Corps in 1964, Dennis Spuhn means to have it all: a millionaire by age 30, his own restaurant chain, house on the bluff, Jenny Adamski. Along the way, avoiding jealous Greg Benson, he is going to need the help of others: a wrestler turned holy man and a likable Louisiana Army veteran who can walk on his hands, maybe all the way across Iowa.
A Caution
Hands Down is a self-published novel, a book in the category of vanity press. Vanity press is a true term for a kind of work that does undergo some manner of review but is still in existence because of the author's presumption that the manuscript merits publication. While some manuscript readers encouraged publication and made good suggestions, there were others whose answers were tepid or worse. A writer who self-publishes many novels of his own advised the discarding of the manuscript before beginning an entirely different work. My wife said, "Tom, your book is better than I expected."
Hoping that knowing my own taste provides some guidance, I provide this list of admired writers: Fyodor Dostoevsky; William Styron; Tom Wolfe; Albert Camus; Mark Twain; Alexsandr Solzhenitsyn; J.D. Salinger; Chaucer; Norman Mailer; Arthur Miller; Nathan Hill; H.L. Mencken; Ken Kesey; Carl Hiaasen; Tennessee Williams; Milan Kundera; Ignazio Silone; William Faulkner; Martin Luther King, Jr.; Abraham Lincoln; Bret Stephens; Eugene O'Neill; Flannery O'Connor; Tom Robbins; Jonathan Dee; Hillary Jordan; Luke Mogelson; Robert Penn Warren; Irwin Shaw; Matthew Stewart; Dorothy Wickenden; Joan Didion; John Stuart Mill; Dan Wakefield; Michael Lewis; Henry Fielding; Charles Portis; Thomas McGuane; Mordecai Richler; Frederick F. Reichheld; poets T.S. Eliot; W.B. Yeats; Howard Nemerov; James K. Flanagan; Gwendolyn Brooks; and Wallace Stevens.


Have a comment about the book? Share it here.