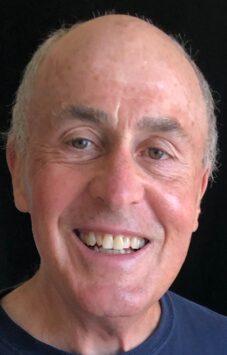 Thomas Russell Figel, born in Chicago in 1946, is the firstborn of Don and Marge Figels' eleven children. After three years in seminaries of The Maryknoll Fathers, he graduated from Assumption High School, Davenport, Iowa and then from the University of Notre Dame, where his fortunate life came to include Nancy Carlin, who would join him as parent of four. A US Army draftee coaxed into becoming a paratrooper, he completed stateside service in Massachusetts.
During a public relations career begun in Florida and concluded in Chicago, he used the GI Bill for an MBA from Northwestern University's Kellogg School. With Nancy, he moved from Chicago to Long Beach, CA during 2021. A favorite activity is to fill a minivan with grandchildren and head to the East Coast or Canada for parasitic stays with friends. He regrets the end of a time when young people could hitchhike. He is glad he caught the Sixties.
During the mid-70s, he co-founded The Palm Beach County Algonquins.
Tom Figel is at work on a new novel.
Cover Design by Creative Works
Florida native Robert W. Jahn founded Creative Works in 1970. The design firm now located in Daytona Beach, FL found immediate success in the U.S. and abroad. In recent years, Bob has organized Creative Works as a studio. The personal structure and the focus on a limited number of consultancies each year permit Bob, the Creator, to immerse himself
deeply in the opportunities and needs of client enterprises. The studio's engagements range from community planning and architectural and interior design to the finish of medical and electronic products.
The designer is a co-founder of The Palm Beach County Algonquins and a past member of the organization's Supreme Tribunal. See www.creativeworksusa.net.
Photographic art by Mel Theobald
Chicago painter and photographic artist Mel Theobald, contributor of photographs appearing in Hands Down, is a native of central Illinois' Bloomington.
His work is held in public and private collections around the world, including Russia, where his assistance to artists needing materials and tools before the fall of the Soviet Union has led to multiple visits and mutual admiration. His book Inside the Enigma documents his experience curating art exhibitions for the Russian Ministry of Culture (www.insidetheenigma.com).
Mel's creative work underwent a metamorphosis from painting in 2001 when he began using technology to produce large scale digital photographs. See www.theobaldart.com.
Have a comment about the book? Share it here.